A large portion of the aesthetic appeal of any property depends on the flooring you opt for it. There are so many residential and commercial properties that are well constructed but only lose their essence due to the wrong selection of flooring. If you are also confused about the type of floor to be used to bring out the best in your residential and commercial property, don't worry! Here are a few floors you can opt for!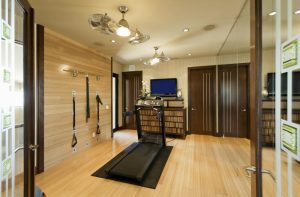 Luxury Vinyl Plank
One of the best floors in the game is luxury vinyl tile and planks. A top-quality vinyl plank is easily distinguishable from its thickness, embossing quality, and edging treatments. LVP brings to you a truly premium flooring experience. Not only is it easy to install, you can actually choose from a wide range of designs specifically tailored for a residential room or commercial meeting rooms. Another reason why luxury vinyl plank will be a great choice is that it offers comfort like no other. The floor is softer underfoot, not to mention its antimicrobial characteristics. In short, LVP flooring truly defines the elite experience, and that too at affordable prices.
Vinyl Sheet Flooring
Among the most popular flooring options among customers is the Vinyl Sheet flooring. This type of floor also comes in a range of appearances. However, the key reason why people opt for it for residential and commercial installations is that it is easy to clean. This is a huge yes for families with children, or particularly busy commercial floors. Furthermore, it absorbs the sound of footsteps offering a noise-free experience in the room. Vinyl Sheet floors are also an inexpensive option, which makes it a suitable choice for people with limited budgets.
Wood
Most commonly installed in residential places, wood is another flooring option that you have. Wood has a captivating visual appeal that elevates the elegance of your entire room. Just like a vinyl sheet, wooden floors are easy to maintain. For starters, they don't catch dust and dirt easily. This type of floor also stands the test of time very well. It can be a great investment if you want a durable floor for the long term. Due to their built, wooden floors happen to be a good alternative for people who have breathing problems.
Ceramic Tile
Ceramic tiles give a tough competition to wooden floors for the quality and characteristics. They are also highly durable and especially perfect for residential properties. Ceramic tiles complement every room they are installed in, may it be your bedroom, the lounge or the kitchen. Cleaning and maintaining the condition of a Ceramic Tile Floor is also very convenient. They are resistant to highly humid conditions making them a better alternative for kitchens and bathrooms.
Looking for top-quality flooring options? How about opting for the best in business—CDC Distributors! We have been successfully serving the industry for over four decades now. For more information about our services, or to hire us for your residential or commercial flooring, simply fill out this form. We will get in touch with you at the earliest.